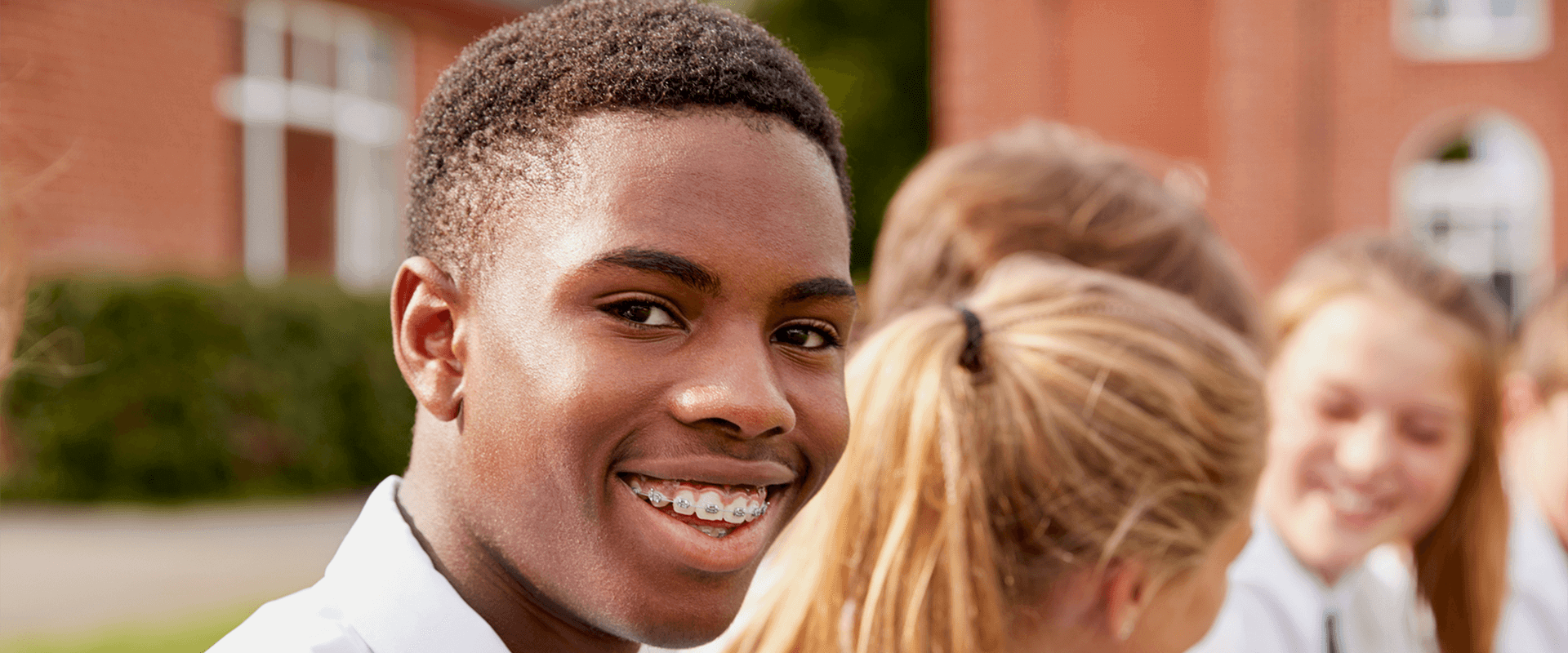 Orthodontics is the treatment of jaws and teeth to achieve a great smile and even bite. Our patients pursue orthodontic services for several reasons, including enhancing their oral health and boosting self-confidence. The American Association of Orthodontists recommends getting an evaluation by an orthodontist no later than age 7. At this age, an Orthodontist can identify potential problems in oral development and jaw growth, and provide interceptive treatment, if necessary, to correct any identified problems.
Orthodontists must receive an additional 2 to 3 years of education after dental school to become specialists in straightening teeth and aligning the bite. At your complimentary initial exam, our Orthodontist, Dr. Kenneth Cohen-Sasson, will perform a comprehensive evaluation to determine the best treatment plan for your case, including the treatment modality that will help best achieve your treatment goals. In addition to traditional metal braces, we offer ceramic brackets, self-ligating brackets such as the Damon bracket, and clear aligner therapy such as Invisalign®.
"We Make Smiles!"
Our mission here at Tebo Orthodontics is to create beautiful smiles for our patients. We see patients of all ages, ranging from children as young as seven years old into adulthood. The first step towards achieving your "dream smile" would be to schedule a complimentary consultation with Tebo Orthodontics, located inside our Lilburn, Dacula, and Peachtree Corners offices. We offer flexible payment options that are easy and affordable for you or your loved ones.
We love our patients and look forward to you joining our orthodontic family!
Feel free to call our office today to schedule a free consultation!
Promotional Offers
After your FREE consultation with our orthodontist, you will be eligible for our promotional offers!
1st Promotional Offer: $100 Discount on Your Orthodontic Services Treatment
Schedule your records appointment (orthodontic radiographs, photos, and models) while in the office during your free consultation to receive this discount.
2nd Promotional Offer: An Additional $50-$100 Discount on Your Orthodontic Services Treatment
If the recommended orthodontic treatment is a phase 1 plan (typically for children between 7-9 years old) or limited treatment (a limited or minor correction), you will receive an additional $50 discount on your orthodontic treatment; or
Suppose the recommended orthodontic treatment is full treatment (typically children ages ten years or older with all permanent teeth present) or Invisalign® clear aligner. In that case, you will receive an additional $100 discount on your orthodontic treatment.
To receive this 2nd promotional offer, the records appointment must be completed within one month of your free consultation.
We offer affordable payment plans with down payments as low as $300 and monthly installments as low as $120, depending on the total case fee.
Pay-in-full discounts and flexible financing options through CareCredit® are also available.
Call or text us today to schedule your free consultation!
Some restrictions apply. 
Educational Videos About Orthodontics
Brushing With Braces, How to Brush Teeth
Flossing With Braces, How to Floss Teeth
Orthodontic Jaw Expander, How to Turn
Braces Problems: Pain, Poking Wire, Sore Teeth, Broken Bracket